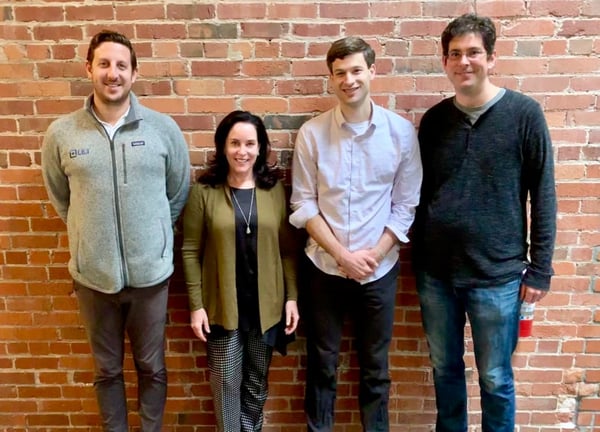 Left to right: Zack Kass (VP Revenue), Paula Shannon, Spence Green (CEO), John DeNero (Chief Scientist)
We're excited to announce the addition of Paula Shannon as an advisor, effective March 16. Lilt's mission is to make the world's information more accessible to everyone, regardless of where they were born or what language they speak. A major step on that path is to enable businesses to offer the same experience to all customers and employees irrespective of language. Paula is an award-winning global sales executive with more than 32 years of experience driving revenues with international teams in our industry. We're excited to welcome her to our team as more companies rely on technology and talent to tackle new business challenges in an increasingly connected, globalized world.
"When I first met Spence a number of years ago, I was impressed with Lilt's fusion of sophisticated linguistic technology and a very simple and accessible application. Their idea, that computational linguistics could solve the challenge of universal information access, captured my heart and my mind. The team that Spence has built is outstanding -- smart AI experts, united in their vision to help businesses operationalize machine translation advances. They are pioneers and industry game-changers and it will be

an honour to

be able to support their success." - Paula Shannon
Recruited by Lionbridge from a language technology leader in 1999, Paula served as the Chief Sales Officer from 2001 until March of 2017. In her time there, she drove revenues from $38M to over $600M, expanded the business to new geographies, revolutionized their GTM strategy, managed more than 250 sales, account management, and solutions professionals worldwide, supported two successful public follow-on offerings, worked to integrate more than 6 material acquisitions, and assisted in the 2017 sale of Lionbridge to private equity.
We may be out to affect change, but we also believe there's a lot we can learn from those who have come before us. For example, we believe our success -- and more importantly our customers' success -- is predicated on technology and translators working together in a virtuous cycle. But we also realize our transition to the future involves learning from those who have faced similar challenges in progressing our industry.
"Regardless of what sizing data you use, the localization market has enormous room for growth. With the combination of Lilt's technology and talented translator network, it's as though the industrial revolution just hit translation and it's time for the whole industry to scale. Human services alone are inherently limited in scale. The key is technology that incorporates AI as a way to empower translators who are absolute experts in their domains. Lilt is in pole position to grab the majority of that growth and the timing is ideal for Lilt to grow into a large enterprise."

- Paula Shannon
In addition to her extensive sales accomplishments, Paula previously managed global operations for several years, serving as the co-GM of Lionbridge's largest product line, consisting of 2,800 employees across 26 countries.
"Lilt has brought hyper focus and purpose to the intersection of technology and translation. While many large language services providers dabble with the latest machine translation developments, Lilt -- with their leading in-house research team -- is at the forefront of these very innovations."

- Paula Shannon
Paula will support Lilt as a personal advisor to Lilt's VP of Revenue, Zack Kass, and as a general advisor to our business. She will take an active role in Lilt's strategic planning and execution. We're thrilled to work with and learn from her as we work towards our mission.
If you're interested in joining our team as we work towards our mission, we're hiring!